If you're planning to list Bellevue real estate on the market, it should look as good on the outside as it does on the inside. When potential buyers pull up, their first impression—and where they begin to imagine their future in a home for sale—begins at the curb. By the time they walk up to the front door, they should be intrigued with your property and what awaits them inside. If your yard doesn't look well-maintained, every open house will begin with skeptical shoppers.

This phenomenon is why "curb appeal" is important in any real estate market, and the rule holds especially true for luxury suburbs like Bellevue, WA. A joint study by the University of Alabama and the University of Texas-Arlington showed that homes with high curb appeal sell for 7% more on average than similar houses with uninspiring exterior. The study also showed that the return from awesome curb appeal can jump as high as 14% in slower markets where there is an abundance of inventory. The study was published in the Journal of Real Estate Finance and Economics.

According to Realtor.com, the median listing price for houses for sale in Bellevue was $1.2 million in July 2021, remaining flat year-over-year. The median sales price was $1.4 million and on average, homes sold for 5.66% above the asking price.

While Bellevue remains a strong seller's market, homeowners should still strive to put their homes in the best possible position to sell quickly and for top dollar.
Luxury in the Evergreen State
Given its mild year-round climate and lots of water, Bellevue has many advantages for building stunning Pacific Northwest curb appeal.

Take a look at your home from the view of buyers pulling up to the curb. Before aesthetics, prioritize functionality: are your walkways free from moss? Are blackberries encroaching on the fences? Do your hose bibs work properly?

Building a better yard yourself will require you to be both a green thumb and a handyman, so consider hiring a professional. Landscapers on Seattle's Eastside are both experienced and relatively inexpensive—especially considering the potential sale price of your well-manicured Bellevue home. Rest assured that spending money on your yard will repay you when larger, more frequent offers roll in from potential buyers.
Healthy Lawn
Even though the calendar is turning from summer to fall, you should still strive to make your lawn look as green and healthy as possible. Water it regularly, keep it mowed and edge along the sidewalk to keep it looking tidy. If your trees have started to drop their leaves, keep them raked up.
Perk up the Landscaping
Like your staged interior spaces, your yard should be clean and uncluttered.

Besides a clean, green lawn, two easy ways to perk up your Bellevue curb appeal are to plant new flower beds or freshen up your existing ones with colorful plants. Add window boxes of flowers or herbs, and clean pollen and needles from your walkway. The extra dashes of color will help make your house look like a home, and accent the stone, shrubs, and trees elsewhere in your property's landscaping.
Paint the Front Door
Once buyers get past the lawn, their focus will fall on your front door. If your door is warped or worn from years of daily use, purchase a new one, or give it a fresh coat of paint. Your color should complement your front yard's landscaping and entryway, and contrast the home's accents of color. Experiment with palettes of color that reflect the outdoorsy Puget Sound lifestyle. Along with fresh paint, replace the door hardware in a style and finish that give a welcoming look.
Update the Porch
Continuing the theme of making your exterior welcoming—freshen up the porch. Wash it clean of moss or mildew, and paint any posts or handrails in need of a refresh. If the porch space looks bare, add fashionable outdoor furniture, flower planters, and replace the porch light (being sure to also sweep away any cobwebs). New welcome mats at each door are another affordable, functional detail. If the porch is in front of your home, ensure that the door hardware, porch light, and mailbox all follow the same style, color, and finish—to help tie your design together.
Paint and Clean the Exterior
Your Bellevue home may not need a new exterior paint job, but it's a wonder what a fresh coat of trim paint will do for your curb appeal. At the very least, hose off the siding and scrub away any grime or dirt. Wash the windows and sweep for cobwebs under the eaves along the front of the house.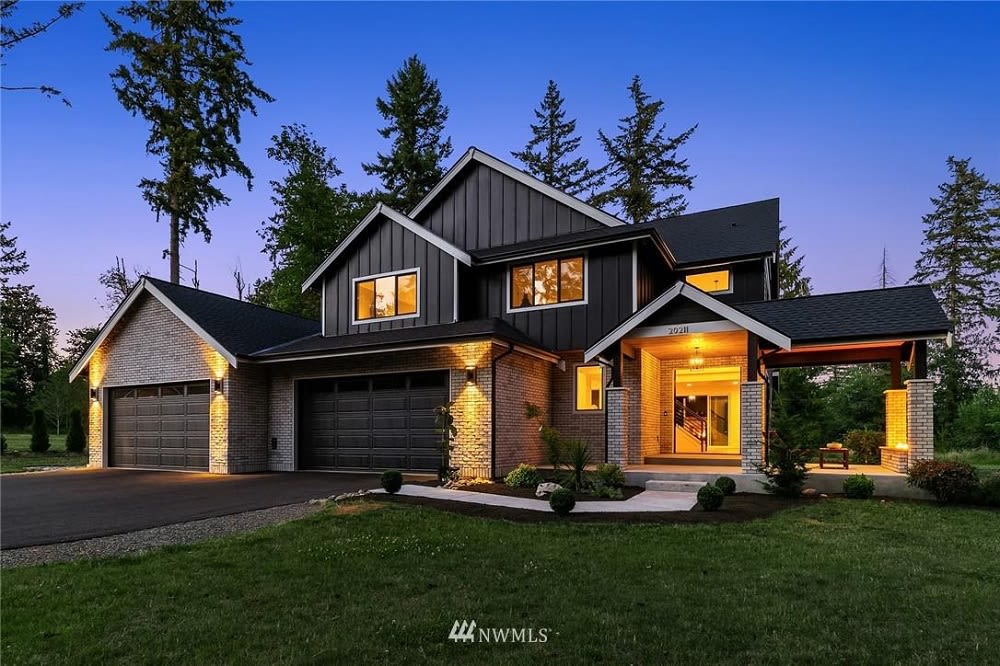 Check the Roof
One thing that Bellevue sellers might forget—but that won't be overlooked by experienced real estate agents—is the condition of the roof and gutters. The Pacific Northwest is rainy for several months each year, and your roof should look and function perfectly if you plan to sell.

A good-looking roof will give Bellevue buyers peace of mind for the rainy months and years ahead, and make for a cleaner sales transaction every single time. Make sure no shingles are missing or out of place, and hire a specialized roofer to complete a full inspection. If the roof is fully functional, but looking faded or green, hire a professional cleaner to give it a good power washing. Clear leaves and pine needles out of the rain gutters.

If you need professional recommendations for improving your Bellevue curb appeal or are interested in buying or selling Bellevue real estate, contact local experts DH Estates for exceptional, trustworthy service on Seattle's Eastside.